Welcome
to the Fanlisting for for the Soundtrack
THE PHANTOM OF THE OPERA
. If you are a fan of this beautifully haunting and tragic music, join the Fanlisting! That is what a Fanlisting is all about, bringing together the people who share a common interest, and letting the world know what you love. So grab a
button
if you have a site, and fill out the
join form
to
add your name
to the
list
of fans! You can navigate your way around by clicking on the song titles in the graphic.
Stats
Opened: January 5, 2004
Last update: June 14, 2022
Fans listed: 852, from 61 countries
Pending fans: 1
Welcome, to our newest fan(s):
Deanna
Fanlisting skins

About
As per
TheFanlistings.org
-
A fanlisting is a place for all fans of a particular show, movie, actor, actress, singer, etc. to come together and build the biggest listing of people from all around the world who are fans of that subject.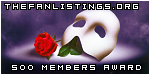 theatregirl.net | thefanlists.com | thefanlistings.org

&copy2004


{ Return to Main }