Welcome
to the Fanlisting for the seductively beautiful song, and main theme of Andrew Lloyd Webber's The Phantom of the Opera, THE PHANTOM OF THE OPERA. This is for both the stage and movie version. If you are a fan of the duet between The Phantom/Erik and Christine Daae, join the Fanlisting! That is what a Fanlisting is all about, bringing together the people who share a common interest, and letting the world know what you love. So grab a button if you have a site, and fill out the join form to add your name to the list of fans! You can navigate your way around by clicking on the links above.
Stats
Opened: May 26, 2004
Last update: September 17, 2019
Fans listed: 513, from 52 countries
Pending fans: 0
Welcome, to our newest fan(s): Louisa
Part of
The Fanlistings Network - Phantom Listings
About
As per TheFanlistings.org - A fanlisting is a place for all fans of a particular show, movie, actor, actress, singer, etc. to come together and build the biggest listing of people from all around the world who are fans of that subject.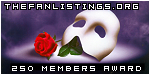 Read a sequel to The Phantom of the Opera
The Phantom Returns, by Stefanie Cole