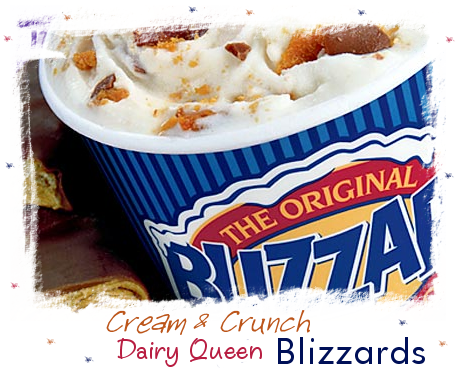 Welcome
to
Cream and Crunch
-- the Fanlisting for the delicious Dairy Queen treat, the
Blizzard
! If you're a fan of the Blizzard, grab a
button
if you have a site, and fill out the
join form
to add your name to the
list
of fans!
This site is listed with The Fanlistings Network. Thank you to Ainna (northstar.nu), who graciously allowed me to adopt the Fanlisting from her. Megan (long-ago.net) owned the Fanlisting before Ainna.
Stats
Last update: September 02, 2023
Fans listed: 165, from 9 countries
Pending fans: 0
Welcome, to our newest fan(s):
Corvidae
About
As per
TheFanlistings.org
-
A fanlisting is a place for all fans of a particular show, movie, actor, actress, singer, etc. to come together and build the biggest listing of people from all around the world who are fans of that subject.
Select Your Layout


Disclaimer
We have no affiliation with Dairy Queen, this is simply a fansite and no copyright infringement is intended.
&copy theatregirl.net & thefanlists.com