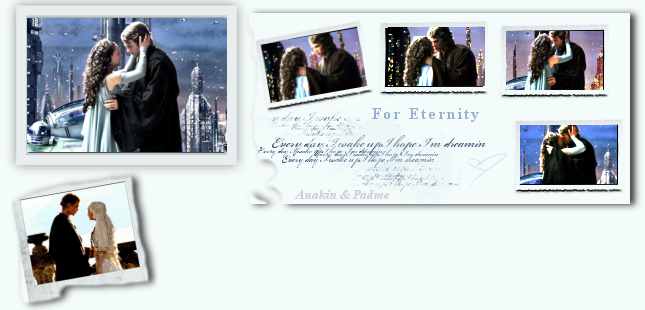 Welcome
to
For Eternity
, the Fanlisting for
Anakin Skywalker/Darth Vader and Padme Amidala Skywalker
. Anakin and Padme share a beautiful and tragic love, with a story that is truly heartbreaking, as a result of the choices Anakin ultimately makes. If you're a fan of Anakin and Padme, grab a
button
if you have a site, and fill out the
join
form to
add your name
to the
list
of fans!
This website is listed at The Fanlistings Network and The Movielistings Network. It is also listed at Twi-Lek.net. The Fanlisting was previously owned by Jen and a big thank you goes out to her and Chelsea, for letting me adopt this wishlister!
Stats
We opened on June 01, 2009 , and the last update was made on July 24, 2021. We have a total of 178 members listed, from 37 countries, with 0 waiting to be added on the next update. Welcome to our newest member(s): Thanisson.
About
As per
TheFanlistings.org
-
A fanlisting is a place for all fans of a particular show, movie, actor, actress, singer, etc. to come together and build the biggest listing of people from all around the world who are fans of that subject.

©2009 theatregirl.net & thefanlists.com